Adaptive Leadership 2018 - registrations now open!
​​​​​​​Published on: 15th of June 2018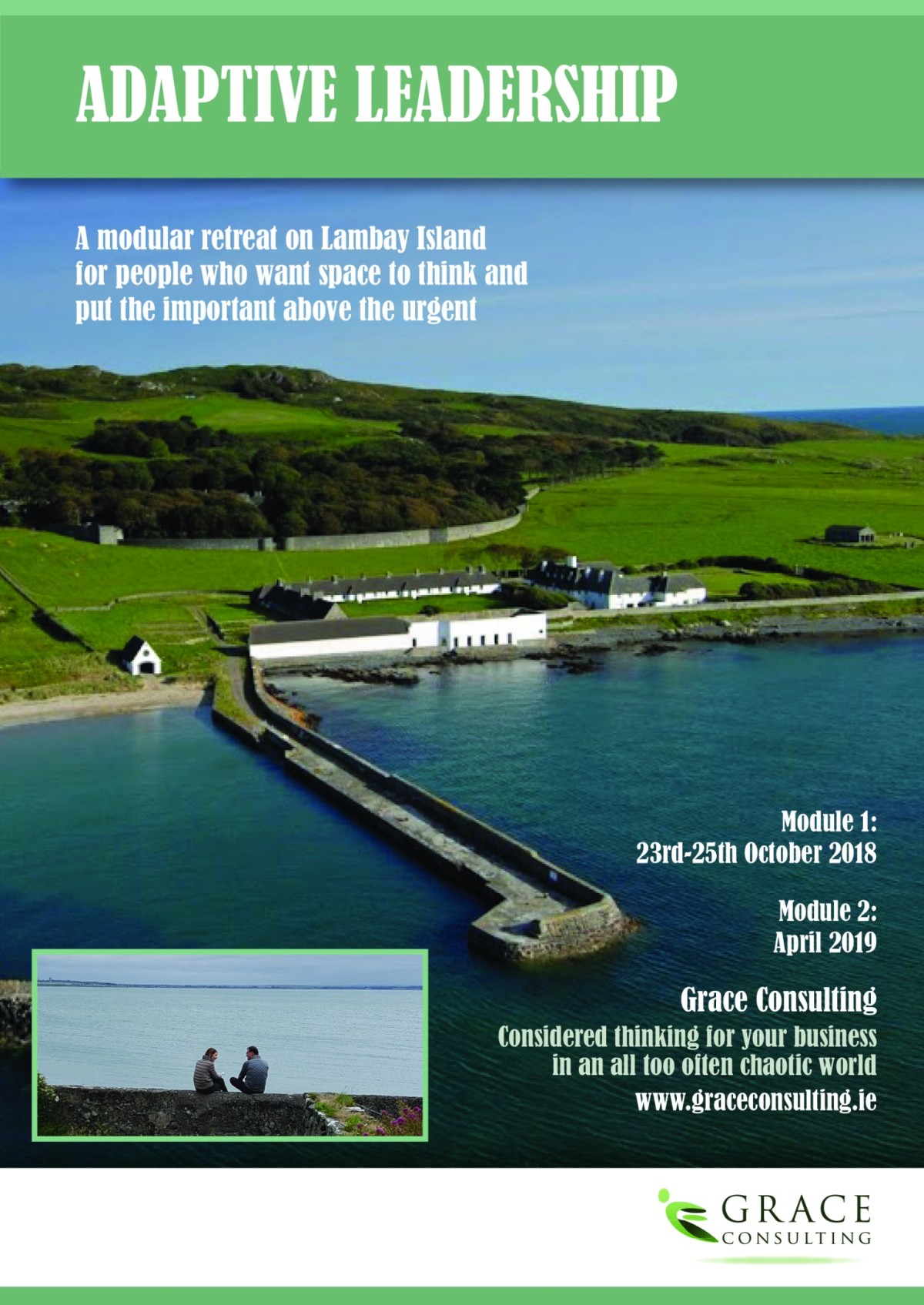 ADAPTIVE LEADERSHIP 2018 - A modular retreat for people who want space to think and put the important above the urgent.
We are pleased to announce that this programme is now open and available to book. It is a unique and exclusive programme that will be of interest to leaders and potential leaders who have a sense that they can, or want to, 'make a difference' in their work – possibly in a formal leadership position or in a matrix role, influencing less directly.
You may wish to:
• Unleash more of your leadership potential and impact.
• Harness your talents, energy and passion.
• Build greater rapport and allegiance in your leadership relationships
• Exploit opportunities to add greater value and make a difference.
• Create opportunities to make impactful changes in your organisation.
• And much more……
Where?
This retreat will take place in the stunning and tranquil setting of Lambay Island. The word 'retreat' reflects the fact that leadership development is as much about 'inner work' as outer work and Lambay Island is the perfect environment to facilitate this journey of discovery. These retreats provide a space conducive to a depth of reflection and self-insight that is not available in traditional leadership training. People are constantly amazed at the clarity, confidence and inner resourcefulness that they discover through the process.
Lambay Island is located off the scenic East Coast of Ireland. A 15 minute taxi journey from Dublin International Airport will bring you to Malahide, a picturesque seaside town boasting a beautiful marina and a wide choice of restaurants, cafés and shops. Lambay boat transfers leave from Malahide Marina and take between 15 and 30 minutes depending on tides and the boat used. There is also a 500m (currently unlicensed) landing strip for small aircraft and space to land a helicopter.
When will it take place and how do I register?
Module 1 will be held on 23-25 October 2018 and Module 2 will take place in April 2019.
The entire programme costs €4,450 including all materials, accommodation, drinks, food and telephone support from the team.
Places are strictly limited to a maximum of 8, to ensure that attendees achieve personalised and focused development, receive 1:1 attention from the facilitators and get the best possible benefits from this small group of peer leaders.
Click here to download the brochure.
Click here to watch a short video.
Click here to read more about Lambay Island.
To register your interest please email Lisa as soon as possible at Lisa [at] graceconsulting [dot] ie or send us a message via our Contact page.